May 16th, 2014
Published by The Caledonian Record for Spring 2014 Open Studio Weekend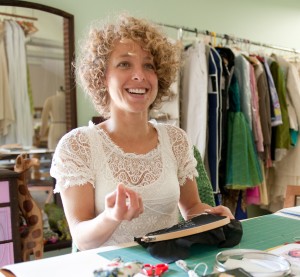 Vermont craftspeople will offer the Spring Open Studio Tour over Memorial Day Weekend. Bright yellow signs are placed along Vermont's roads to mark the way to studios of 239 craftspeople and fine artists during the self-guided tour on May 24 and 25, at a time when the landscape is fresh and inviting and without the crowds of summer and fall.
Martha Fitch, the director of the Vermont Crafts Council that organizes the event, says the allure of the Open Studio tour is that "it takes you through the real Vermont, with the yellow Open Studio signs and the Open Studio map easily guiding visitors to the studios." The tour features the work of glassblowers, jewelers, printmakers, potters, furniture makers, weavers, ironworkers, painters, sculptors, quilt makers and wood carvers. This May, the Vermont Crafts Council is honoring two artists who have participated in the Spring Open Studio tour for 20 years: Marlboro potter Matthew Tell and Jericho artist Dianne Shullenberger.
Every year the tour features a number of new artists, giving long-time Open Studio visitors fresh destinations to explore. In studios of long-time participants, repeat visitors can expect to find new art works and old friends. The studio tour brings visitors to historic villages and along roads with spectacular vistas. For travelers looking for a broad range of activities, Vermont-byways.us has posted interactive maps in each of the regions showing Open Studios in those areas.
SOME LOCAL OPTIONS
Adventurous travelers looking for unusual studios may want to wend their way to Caledonia County to Sutton, a town of a little over 1000 people in the Northeast Kingdom. Two studios there along with other Open Studios in nearby Newark and East Burke will provide plenty of opportunity for discovery. The information center for this region is at the Northeast Kingdom Artisans' Guild in St. Johnsbury, a gallery that shows the work of over 100 Vermont artists and craftspeople.
Sutton artist Tara Lynn creates what she calls "eco-fashion" such as embroidered jackets inspired by and in support of endangered species, as well as bridal gowns made from eco-friendly materials such as hemp, organic cottons and silks. Lynn says Open Studio visitors can view the artwork and are also welcome to become engaged in the artful process by learning basic embroidery stitches during the visit. All tools and materials are provided and visitors can take home their own embroidered appliqué or can bring their own garment to embroider.
A short distance away is the High Beams studio of Trenny Robb and Bob Michaud, a visual wonderland of unique, elegant lighting. The artists create wall sconces, table lamps, floor lamps and chandeliers in unique designs based on Victorian reproductions to the Arts and Crafts era. The handcrafted lampshades are made from materials such as mica, parchment, and real leaves and petals and the lamps are fashioned from copper and brass.
In nearby East Burke are two fiber studios and a woodworking studio: Pikku, the studio of Valerie Chase/Ormiston where she creates elegantly designed paper and fabric for the home; Craft Barn, where Ellen Chase will show her handmade quilts and pillows; and Sanderson's Wooden Bowls, handcrafted by husband and wife team Sam and Weeza Sanderson using local woods and natural finishes.
Another special studio can be found along stunning Lake Memphremagog in the town of Newport, where Phyllis Hammond will show her watercolor and acrylic paintings of Iceland, Alaska and wildflowers.
Traditional craft can be found in West Danville at Joe's Pond Craft Shop, located in a renovated barn next to Hastings Store, a quintessential Vermont general store. Along with the work of 35 Vermont craftspeople, proprietor Deborah Stresing also has her "working" loom and woven rag rugs.