Modern, Classic, Formal and Casual Hemp Suit Styles
Choose a hemp suit style, fabric, color and lining that suits you!
Choose the look for you! A made to order three piece hemp suit or maybe you are looking for something more casual like hemp pants, a vest and henley with rolled up sleeves. Well you have found the place. We offer custom tailored hemp suits, pants, vests, ties and bow ties too! We are LGBTQ friendly so don't be shy if your looking for a custom fit suit. For inspiration check out T-Love's custom hemp pant and vest with red trim. How to get started:
Contact Tara Lynn to make sure we can assure a timely delivery of your hemp suit. Call 802-467-9036.
Order a custom designed suit or choose from our collection below.
Select fabrics and colors of your choice. Tell Tara Lynn what you are looking for and she will mail you fabric swatches.
You get to choose your lining fabric too! Tara Lynn will help you find the perfect lining for you; polka dots, stripes, conversational prints, plaid, hot pink… you name it.
We ship fittings too, or you can come to Tara Lynn and enjoy a little vacation in Vermont between fittings. Lots of clients do.
Once we approve your wedding date delivery Tara Lynn will request your measurements, photos, a signed contract and will send you payment information.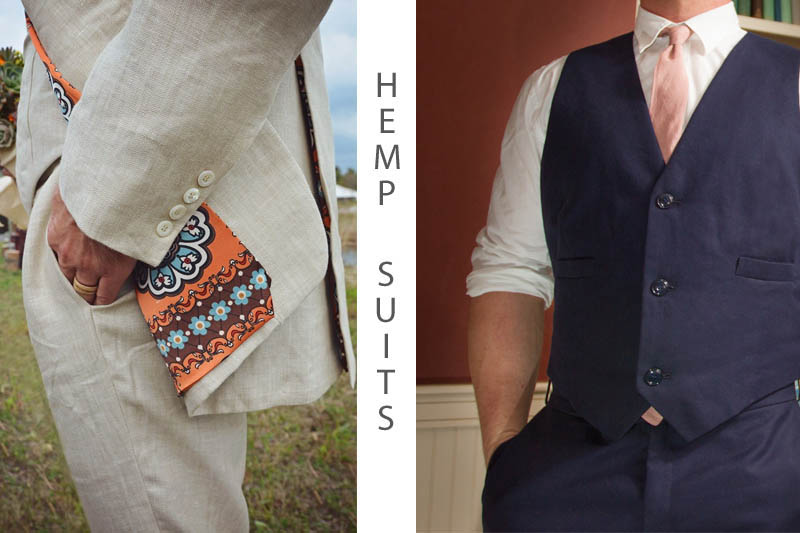 We currently offer 3 suit styles though we are working on additional styles so please inquire within and tell us what you are looking for.  We also offer button down shirts with short or long sleeves, V-neck shirts, vests and both wide leg and tapered pants. Tara Lynn is still waiting for that customer to come along that wants the awesome David Bowie inspired bell bottom suit she's been working on. You? Maybe? No? Well that's ok, we probably have something to suit you below.