I dreamed of a Fashion House full of windows, located in the mountains of Vermont. I left New York City to work and live surrounded by mother nature. Where I could hear the brooks babble in the winter, admire the foliage in the fall, and day dream on the mossy forest floor in the spring.
It is April and I invite you to admire the beautiful snow through the studio windows.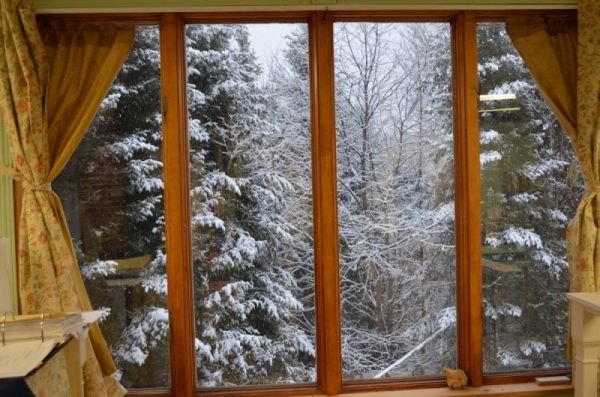 Clients are invited to come to Vermont for fittings.
Our clients tell us they cherish being a part of the design process.
Our studio is unique, full of inspirational samples, vintage trims, textiles and creative energy.
When clients travel to Tara Lynn Bridal they often stay for a weekend.
They explore the woods, mountains and lakes in-between fittings.
Our clients come from as far as Oregon, Colorado, D.C., Canada and even Europe.
Inside the studio we work overtime to revise your fittings; cutting and sewing up a new sample for you. Tara Lynn schedules fittings in the morning so you can spend the afternoon hiking, biking, snow shoeing or just relaxing. Then come back the following morning for a second or final fitting.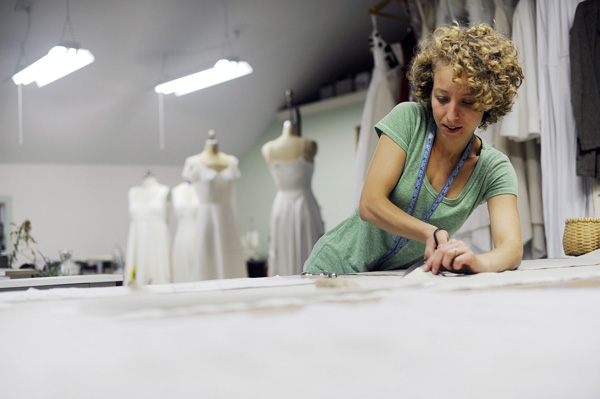 Tara Lynn Bridal is situated on 92 acres is Sutton, Vermont.
We encourage clients to romp around the trails or explore the river behind the studio while we sew your wedding dress and stitch the buttons on your suit. We welcome dogs too. We are pretty laid back and ready to cater to you when you get here.