News Release, Saturday, November 5, 2011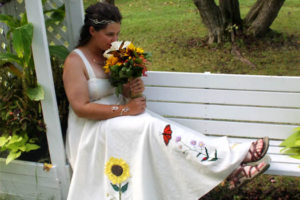 With wooly bear caterpillars and snow fleas stitched into her wedding gown, it was as unique as she is.
Andalyne Stapely-Tofflemire, a nature enthusiast was seeking a wedding that was in tune with the outdoors. A search on the internet brought her to the eco-fashion design studio of Tara Lynn Bridal in Sutton Vermont.
"It means so much to me that it's not just a dress I picked off the rack, but it has lots of meaning," said Stapely-Tofflemire. She requested a gown with images such as a sunflower, monarch butterfly, woolly bear caterpillar, and a loon to be depicted on her wedding gown.
Stapely-Tofflemire is from Ontario Canada, so she worried at first that the distance may be too far for her  to work with Tara Lynn Bridal, but it didn't end up being a problem. An eye opening experience for Stapely-Tofflemire was when she visited the studio. She was impressed by the work she saw so much that she asked to have a shirt made for her husband to wear at the wedding as well.
The princess bodice style dress was made with eco-friendly muslin fabric that is 55 percent hemp and 45 percent cotton. Stapely's inspiration for the dress was to represent creatures and insects from each of the four seasons.
On her wedding, on Sept. 24, "Friends exclaimed over how realistic the flowers and insects were, amazed at the amount of detail to the point of being able to accurately identify things," said Stapely-Tofflemire. "It was cool to have three-dimensional artwork, like the fuzzy caterpillar which I fully encouraged my guests to touch and feel for themselves."
Tara Lynn Scheidet hand designed and embroidered each of the appliqués that were to go on the dress, and she got feedback from Stapely-Tofflemire every step of the way.
Stapely-Tofflemire said, "Everyone had heard of and was so excited to see my dress, that even those who could not make it to the wedding put in orders for photos as soon as they could see them."
FOR MORE INFORMATION, CONTACT
Tara Lynn Scheidet
Owner, Designer
802-467-9036