Woodland Collection
Unique Wedding Dresses
Spirits of nature inhabiting rivers, forests, mountains, and meadows.
Protectors of wildlife from deserts to oceans. Truly unique wedding dresses honoring nature. 
Farfalla flutters through the forest looking for nectar from wild flowers. Follow this link to see more details and personalized versions of Farfalla, the Woodland Fairy Wedding Dress.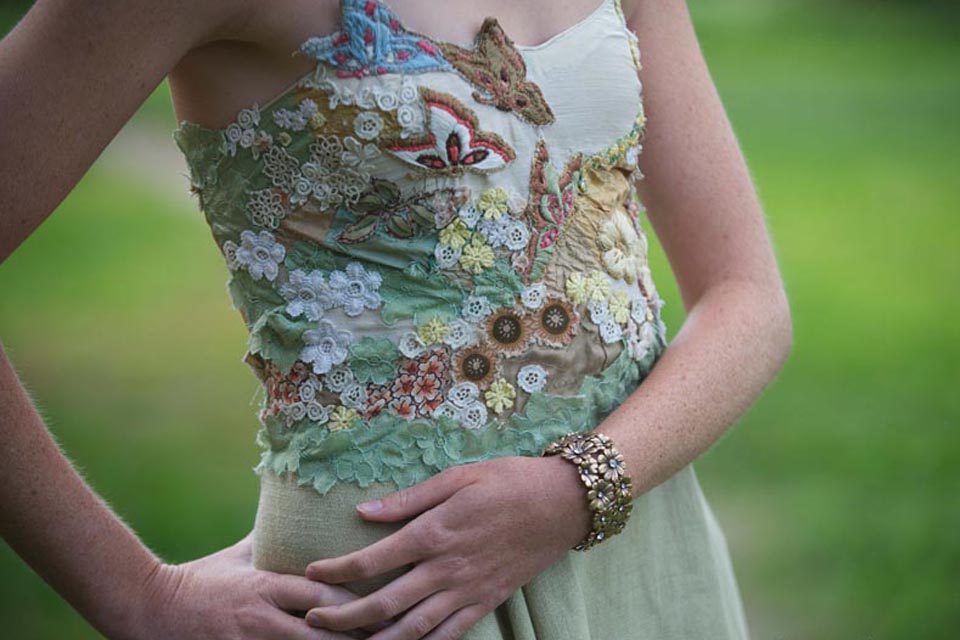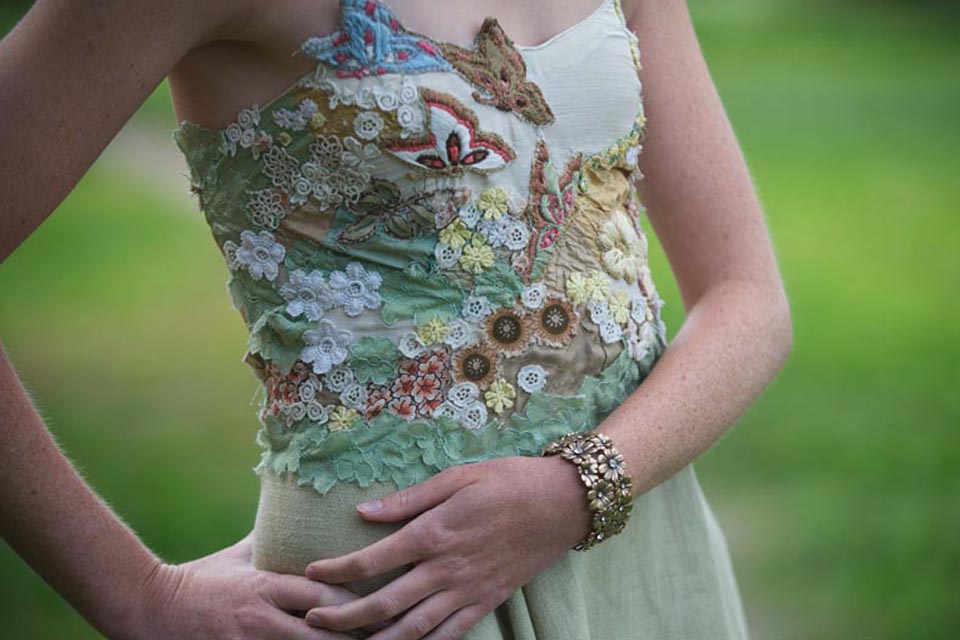 Fiorella is stunning, the Woodland Queen is admired by all the animals. She touches the land with her class and conscious spreading her knowledge of ecology everywhere she travels. Follow this link to see more details and personalized versions of Fiorella, the Woodland Queen Wedding Dress.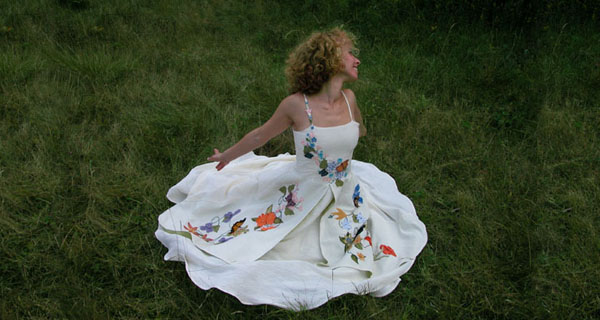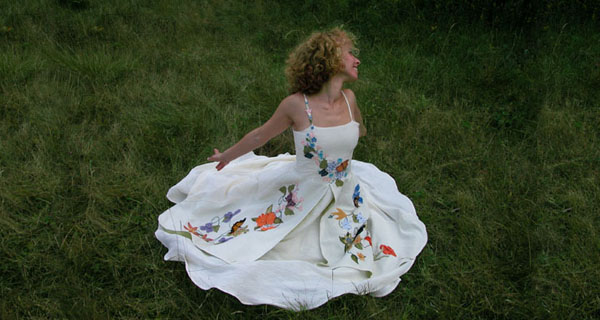 Mina in vintage printed floral 
Mina, the woodland princess, is searching the Sutton forest for a partner to share her love. Follow this link to see more details and personalized versions of Mina. Who will Mina find to share her love?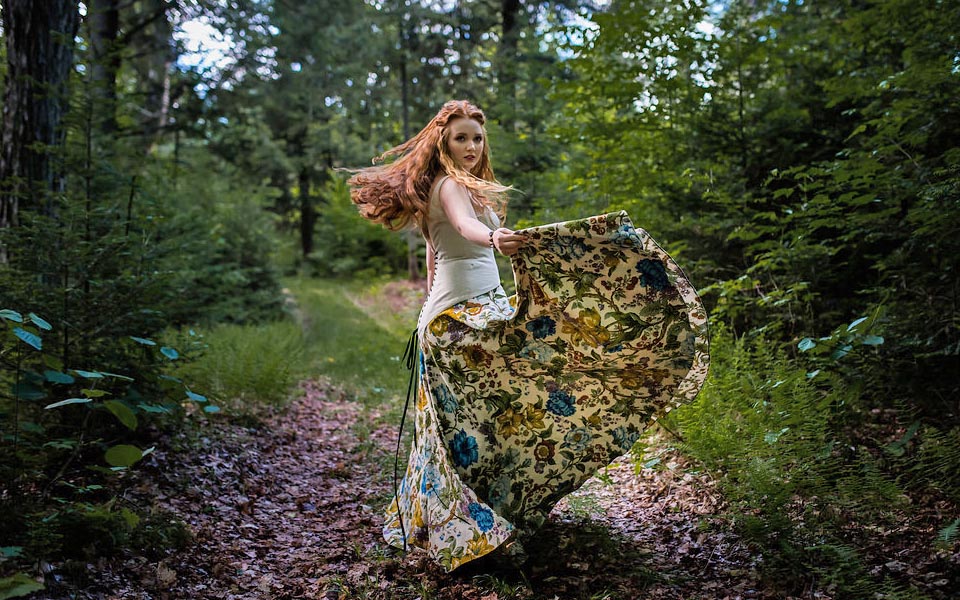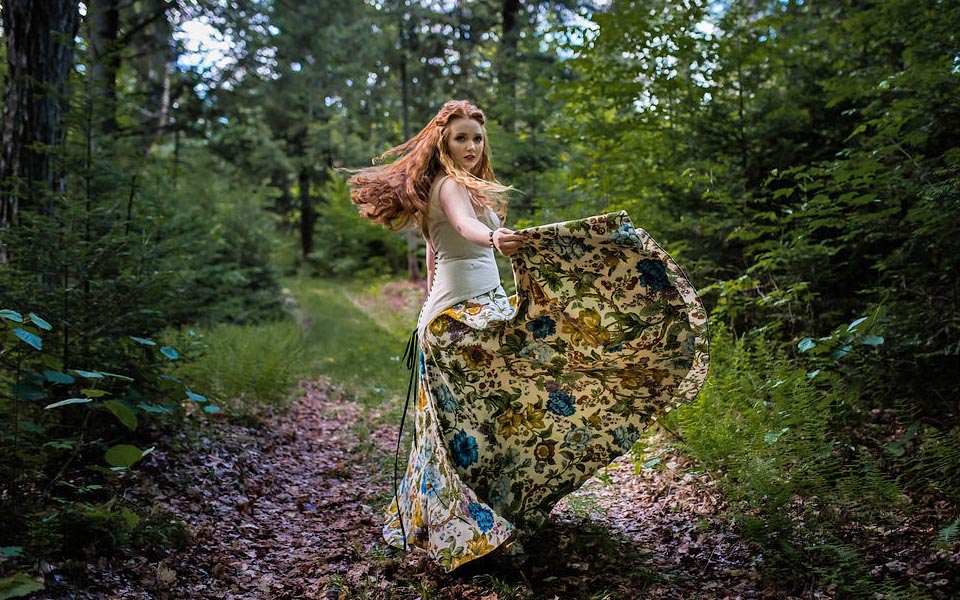 Sylvania, a playful naiad, she skips along woodland streams by day and naps in the lichen beds under the forest cover by moon light. Follow this link to see details and personalized versions of Sylvania.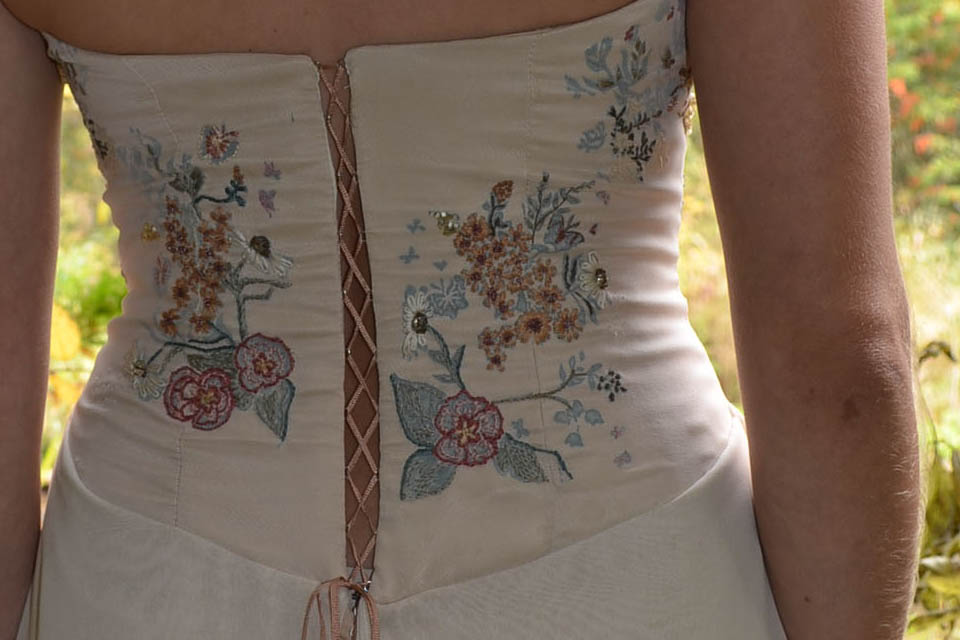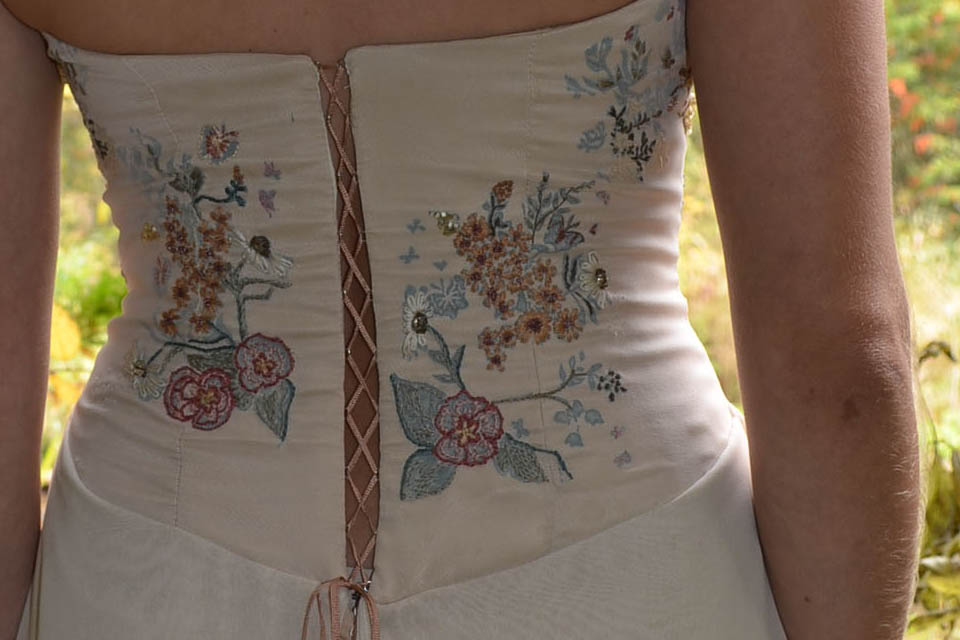 DIOSA WEARS A GOWN OF PEACE SILK
The moth nymph, gracefully disguised, travels in autumn to share her knowledge with moths around the world. She raises mushrooms in the forests of Brazil for their psychedelic powers. When disturbed they disperse aromatic spores that level the heads of mortals, bringing them closer to the earth, reminding them of their spirit and touching their souls. The moths disperse her mushroom spores throughout the forests of the world bringing lite and clarity to humanity as their roll as protector and guardian.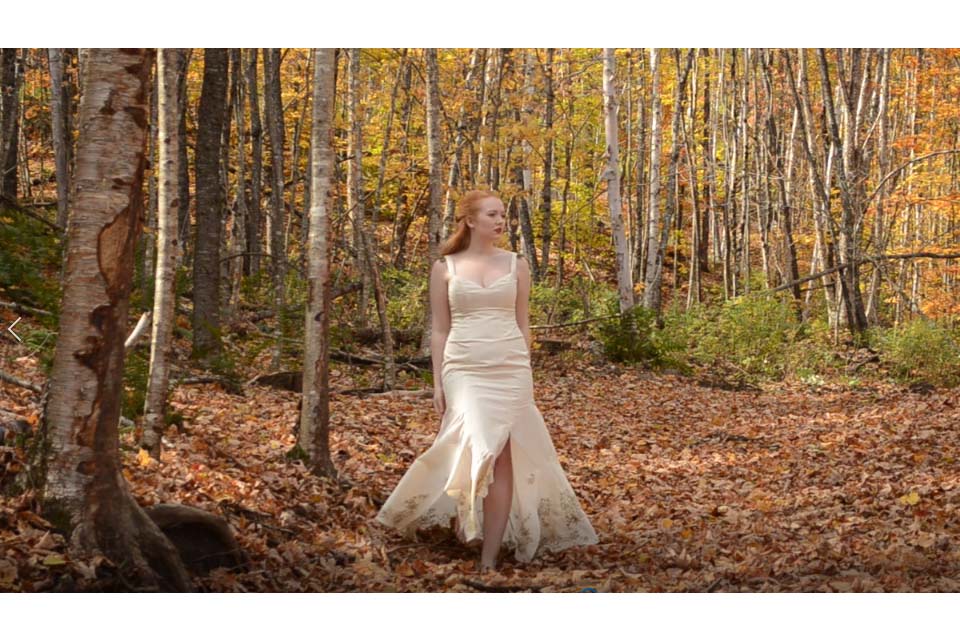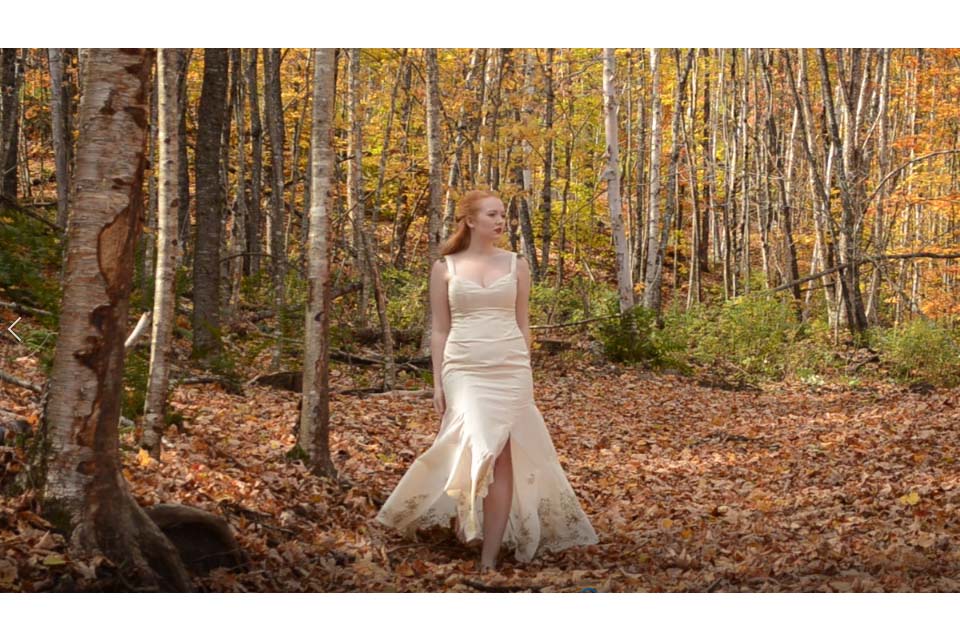 Made-to-Order vs. Custom-Made Wedding Dresses
_____________________________________________
Made-to-Order Personalized Wedding Dresses
All of the wedding dresses in the Nymph Collection are made-to-order.  This offers you the opportunity to modify or personalize any of these unique wedding dresses. To see more photos of each style and view a galley or personalized versions just follow the links provided under each sub title. Farfalla and Fiorella are two of the most popular unique wedding dresses that are ordered and personalized for each individual bride. The styles in the Nymph Collection, Goddess Collection and Starlight Collection can be ordered in a standard size 2-12 or a custom size for an additional fee. All of the made-to-order unique wedding dresses wedding dresses are cut to length without an additional fee. You can request style modifications of all kinds including special fabric requests, trim options, and neckline and silhouette changes. If you order modifications and a custom size, I prefer that you travel to our studio in Sutton, Vermont for an in-house fitting. Clients describe their fittings in Vermont as a "mini-vacation before your wedding". Collection prices range from $1,000 – $15,000. Dresses over $3,000 include a custom size and require an in house fitting, this is the best way to achieve an impeccable fit.
______________________________________________
A custom wedding dress includes your consultation, reviewing sketches, choosing fabrics, your custom pattern, fittings, and a fabulously fitted, finished dress. When you order a custom dress it is a fun process as we work one-on-one with through the each step of the creation process.
I start by getting to know more about you including photos of you and your partner. This helps me wrap my head around your personality and style. Then I can start to sketch dresses and style options for you. I will provide fabric options based on your requests and my recommendations.
Then the pattern making process begins. Sometimes I will drape a new design. I have padding that I use to shape my dress forms to match your measurements as close as possible. During your fitting I want to be sure you love the fit, style, and the way you feel in your dress. Clients find that coming to Vermont for fittings is like a mini vacation as they take time to enjoy the scenery and play outside between fittings. Most fit samples are made in the dress fabrics as it is important to see how the fabric drapes. A final fitting involves hemming–and this is where the shoes come in! Clients will start planning jewelry and hair as we pull the entire look together. When you order a custom-made wedding dress, I will set up a private client portal with a unique login and password where you can view images of your wedding dress in development and share them with friends and family. A custom wedding dress starts at $6,000. Specialty fabrics, embellishments, lace, embroidery, and dress design variations all determine the cost. When contacting me about your unique custom wedding dress, please advise your wedding date, styles you are considering, and your budget so I can plan for you accordingly.
Because of the nature of what I do and how personalized the garments are I accept  a limited number of orders each year so please be sure to book your order in advance,  a minimum of 1 year to 6 months is preferred depending on the season.
Believe it!
You just found the place for truly Unique Wedding Eco-friendly Wedding Dresses and a designer that can capture your spirit!
Please contact me for a brochure and business card. I am  happy to include fabric swatches at your request. Call 802-467-9036.
I look forward to hearing more about your wedding plans!
Sincerely, Tara Lynn
Would you like to work with Tara Lynn?
"I will capture your spirit in a truly unique wedding dress
& delight you with genuine customer service."
– Tara Lynn