The Making of a Custom Wedding Dress
by Tara Lynn
We hope you enjoy a view behind the scenes at Tara Lynn Bridal.
This is where we share the intimate details that go into making a custom wedding dress by Tara Lynn. It all begins with our customers. They inspire a sketch. Then we get to work on the pattern. After several fittings and playing with fabrics and colors we begin to see a beautiful one of a kind wedding dress evolve in the studio.
May 20, 2023
Wild Flower Wedding Dresses
Last years theme seemed to be rainbow trout. This year it's wildflowers, specifically Vermont wildflowers.
I started painting a wildflower wedding skirt in November of 2022 and it wasn't for anyone particular. It was a creative exploration. So when a customer contacted us in 2023 requesting a Fiorella wedding dress with trout lilies and trillium, it seemed meant to be.
She was delighted to know I already started painting one for her!  And wouldn't you know the skirt was a perfect fit!!
We began working on a custom bodice to match with 55 self covered buttons down the back.
And how about some hand embroidered butterfly friends to match.
We selected the endangered Karner Blue and Rusty Patch Bumble bee and made a donation to the Xerces Society in the clients name. With that she will receive a year's subscription to Wings, Xerces Society's mini mag on endangered invertebrates.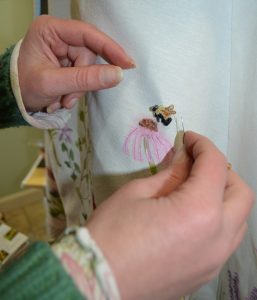 Sewing on the Rusty Patch Bumble bee, just about to land on this coneflower.
Meanwhile, we were on our second batch of embroidered flower samplers. Our embroidered wildflower wedding dress has evolved into a real ethereal beauty. We changed fabrics and decided to go with a 100% organic cotton gauze, a challenge for the embroidery. I leave off here as I need to get back to stitching!
Looking forward to sharing the next steps with you all. Thank you for reading our behind the scenes journal and please don't forget to share it with your friends and the world. We know there are many more customers out there looking for us, looking for a special wedding dress that truly fits their body and their unique personality.
February 17, 2023
Custom Hand Embroidered Wedding Dresses
Today we are working a a custom wedding dress that will have hand embroidered flowers growing up from the hem on a silk chiffon full circle skirt. Before we can even begin the embroidery we must know the dress is a perfect fit. So, today we are modifying the bodice pattern following the pins and markings we made on the muslin from the brides first fitting.
I sketched 15 different wildflowers for this custom wedding dress. There will be around 20 – 30 hand embroidered flowers growing up her wedding dress.
We selected and revised out embroidery color pallet. Then I began stitching little mock ups of the flowers to get a sense of the size, scale, fabric, and colors.
This fit sample is made of silk georgette, 16mm.
February 6, 2023
A Sexy & Sweet Vintage Lace Wedding Dress
We are working on this sweet little number. Using a fit sample from a Fiorella gown and a fit sample from a custom gown I created a playful wedding dress, adorned with vintage lace sewn on a hemp silk bodice. The neck line is trimmed with ricrac. Hand stitched details and vintage lace make this sweet little number truly one of a kind.
We stitched vintage lace over the sweetheart bodice and paired it with a hemp silk mini skirt with a silk chiffon overlay. We are hand basting a vintage embroidered and scalloped trim on the hem of the skirt. This sexy wedding dress is yearning for the right bride to come in and sweep her off her feet.
I have not decided the back closure, lace up perhaps or an invisible zipper. It is your choice!
December 20, 2022
The Wedding Jump Suit
Most exciting today, we received photos from a client who got married this past summer. We made a custom wedding ensemble from their mother's heirloom wedding dress.
We took the lace from mom's gown and used it on the back of a custom wedding jumpsuit.
We made a matching skirt trimmed with mom's lace at the waist.
The skirt over the jumpsuit gave the illusion of a grand ball gown with dainty covered buttons down the back. When the skirt came off Jen was dressed to the nines in a dapper wedding jumpsuit.
December 1, 2022
A Hand Painted Wedding Dress
Here we have begun making a natural fiber, hemp silk wedding dress, hand painted with Vermont State wildflowers.