Maia is a Hippie Wedding Dress Made of Hemp & Organic Cotton
Named after the Greek nymph and earth goddess of springtime.
Made of soft hemp and organic cotton, with an empire waist line and handkerchief hem, she is a playful hippie wedding dress.
Photos by: Jay Ericson Photography
Maia was specially made for…
"It's a unique reflection of who I am and what I love."
Andalyne's dress was embroidered with the four seasons.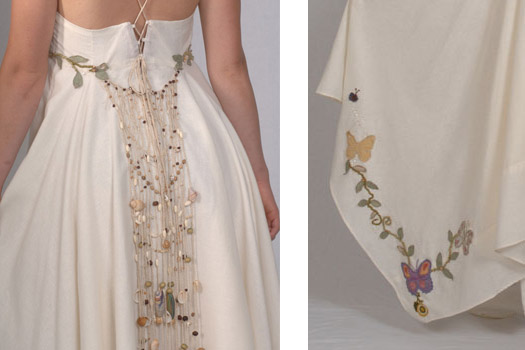 "Thanks again for making this so fun and exciting!"
Appliqued butterflies flutter around the hem of Heather's lace up back Maia wedding dress.
An heirloom wedding story.
Alyssa's dress with adorned with crochet trim from her mother's wedding dress.
Would you like to work with Tara Lynn?
"I will capture your spirit in a truly unique wedding dress
& delight you with genuine customer service."
– Tara Lynn