Persephone is an Ethereal Wedding Dress
She captures the essence of spring
Delicate beaded flowers bloom across the bodice of this ethereal wedding dress designed for a goddess.
Photography by Justin LaRose
Persephone Goddess of Spring
Persephone is an ethereal wedding dress that captures the freshness of spring. Wispy silk blossoms are beaded across a hemp silk bodice and descend to the hip. Silk organza airily falls over a layer of sheer hemp silk. The a-line skirt flares at an asymmetrical seam and gradually lengthens to a floor-length train at back hem. Spaghetti straps crest the shoulders and traverse the spine highlighting the small of the back.
Tara Lynn can make Persephone your own by adding to to her your personal goddess style. She is an ethical wedding dress canvas, simple, beautiful, whimsical and easy. The slide show below the Persephone gallery lends some inspiration to the possibilities.
Handmade in Vermont and Made-to-order
*Contact Tara Lynn for pricing and fabric swatches
"I was stunned by the beauty of your work…"
An ethereal eco wedding dress custom made for a palaeoanthropologist, for a wedding at the Wild Center Museum in NY.
"…I especially like the way the flowers are true botanical representations."
Each butterfly on Fire's wedding dress represented a late close friend or relative, present among a riot of colorful flowers.
"I just wanna feel like me."
A Persephone wedding dress custom made for a Brazilian Goddess with seashells, charms and pearls.
"…everyone told me my dress was so me…"
Braided straps of silk gauze and fine hemp twine laced up the back of Manu's couture wedding dress.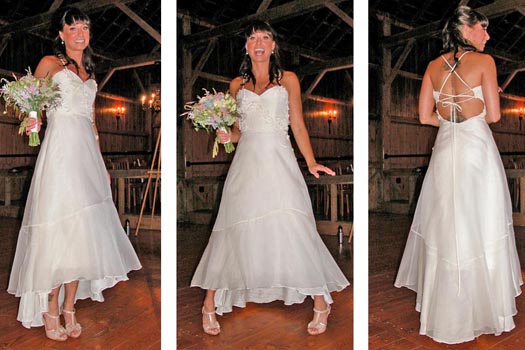 Leanna Models Persephone 
Leanna models the same Persephone dress worn in the above gallery photos, however, she is taller so you see the dynamic change in the length of the hem from front to back.
Would you like to work with Tara Lynn?
"I will capture your spirit in a truly unique wedding dress
& delight you with genuine customer service."
– Tara Lynn