Woodland Queen Wedding Dress
Fiorella is a Woodland Wedding Dress
Truly One-of-a-Kind Woodland Wedding Dresses
Tara Lynn's woodland wedding dresses are custom made for each bride with hand-made appliques of your favorite flowers and butterflies and more! Be sure to see the slideshow below this gallery to see hand painted versions with fish, flower fairies and dragonflies.
One-of-a-Kind Woodland Wedding Dress
The Fiorella wedding dress is intricately embroidered with your favorite flowers and butterflies. She has a princess bodice, dropped waistline, and petal layered skirt lined in a contrast color of your choice. Tara Lynn creates little flower and wing patterns, cuts them out of vintage remnants and by hand and machine creates truly unique appliques.
Fiorella starts at $6,500 with an adorned bodice and strap. A custom fit is included and an in house fitting is required.
*Price variation depends on the number of floral embellishments and coverage.
Hand-made in Vermont and Specially Made-to-Order
*Contact Tara Lynn for a fabric swatch.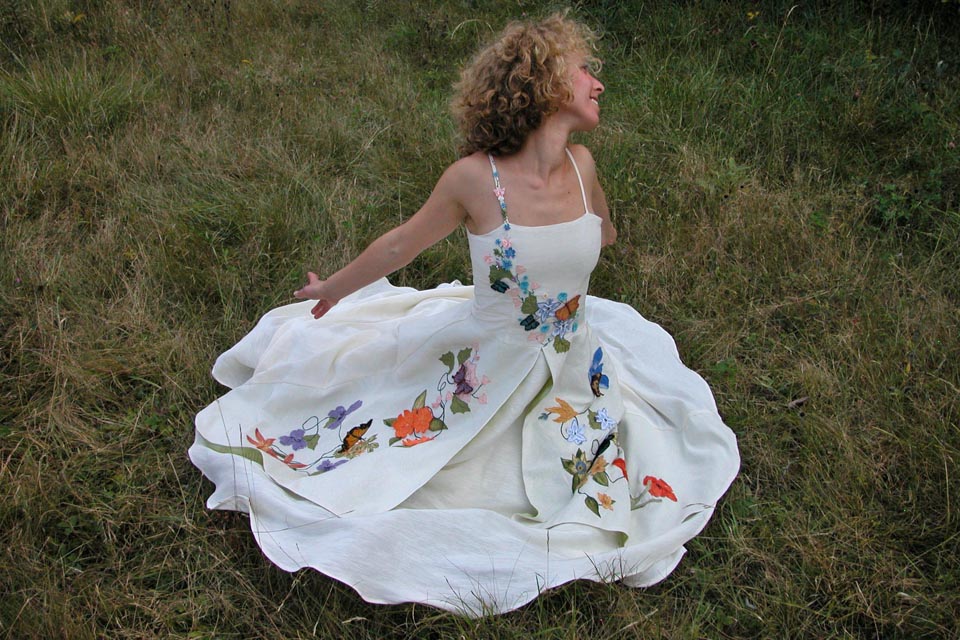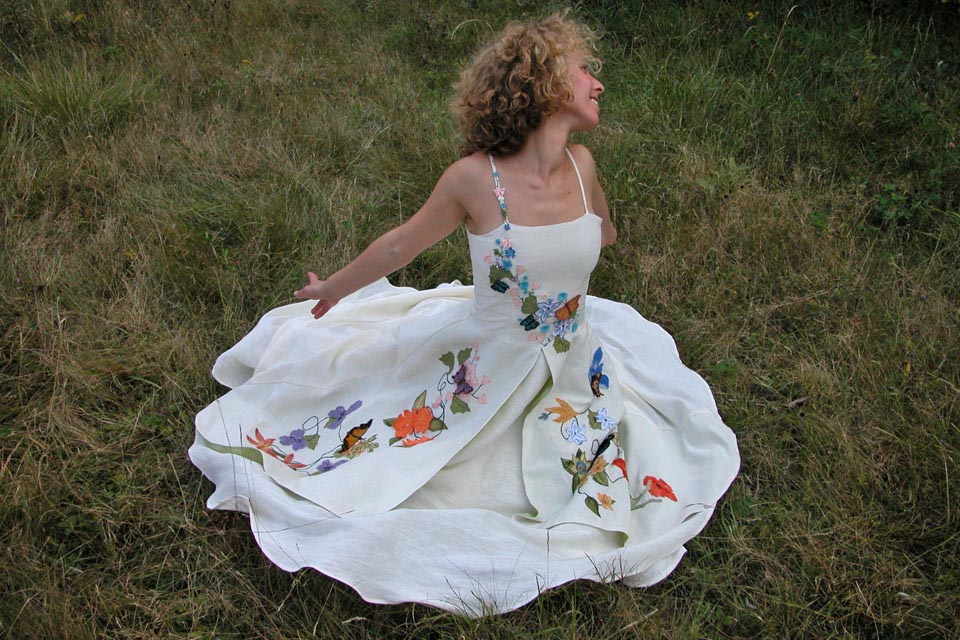 Traditionally, Tara Lynn hand paints and embroiders appliques, of your favorite flowers and butterflies, on a canvas of hemp silk satin.
Click on the gallery images for a closer view.
Fiorella is a popular gown and we share with you many variations in the slide show below this gallery, including three real wedding stories.


Fiorella was originally custom designed for Elise. She sent Tara Lynn a collage of her favorite butterflies and flowers for inspiration. All the embellishments are made from fabric remnants and hand-embroidered to capture the texture and color of the flowers and wings. Little butterflies, cut from vintage lace, nestle among embroidered flower buds trailing along the spaghetti straps from front to back. Her wedding gown is made of a luxurious satin blend of hemp silk with the matte side on the outside of the dress. The skirt has two layers. When the she dances or the wind blows a contrast color peeks out when the skirt parts or folds back.
"Oh, how lucky I am for having such a lovely dress.
We went to Vegas in the beginning of December I felt like a queen wearing this dress.
I hope my daughter will wear it someday." -Elise, Massachusetts
Woodland Wedding Dresses
These woodland wedding dresses were custom made for the following clients. 
Kendra had a unique hippie wedding dress with purple poppies. 
Linda had an embroidered wildflower wedding dress with birds. 
Caitlin had a hemp silk Fiorella wedding dress paired with a custom hemp suit. 
Sueno's Fiorella was a hand painted wedding dress with morning glories and trout. 
Laura's custom wedding dress was modified to have a boat-neck and empire waist adorned with ivy. 
And Tara Lynn has custom made so many whimsical woodland wedding dresses this is just a small preview in the slider below. Fiorella dresses have been made with tamarack branches, bumble bees, flower fairies, Luna moths, lilies, dandelions, butterflies, dragonflies and more… 
Would you like to work with Tara Lynn?
"I will capture your spirit in a truly unique wedding dress
& delight you with genuine customer service."
– Tara Lynn