How to Order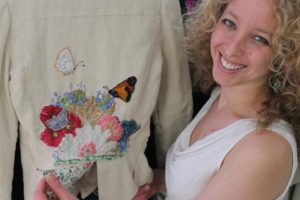 Hello,
I am Tara Lynn. For a truly unique wedding dress experience we will start by getting to know each other. Please contact me directly and I will email you a personal interview. We can set up a personal consultation in house or over the phone. Telling me about yourself will help me come up with options specifically suited for you.
To Get Started:
You may fill out my contact form
Or call me at 802-467-9036 Monday – Saturday 10 am to 8 pm EST. This phone number is a land line and thus I do not receive text messages on this line.
When you hire me to make your special wedding attire you have a chance to be a part of creating your wedding dress or suit. I listen to what you want and come up with ideas personalized for YOU. Clients find it easy to express their visions to me and collaborate during  the design process. I wrap my mind around each individual customer as I am designing and working on their dress. When you order a custom size, custom wedding dress or suit with embellishments I send you sketches and photos of the development every step of the way. You can view all the images in a private client portal on my website, share them with friends and request changes.
Why clients love working with Tara Lynn.
"I highly recommend Tara Lynn Bridal. My Athena wedding dress with back strap modification is beautiful! It fits well and I felt great wearing it on my wedding day! It was a pleasure to work with Tara Lynn. Initially I was nervous to engage someone to make a dress for me who was all the way across the country, but Tara Lynn immediately put me at ease. Her thoroughness, professionalism, attention to detail, and care made the process go very smoothly. Two thumbs up!"
-Lila H. Sacramento, CA
"Thanks so much for your focused time… You were so helpful and dedicated to me and my questions and ideas.  I understand so much more about what's involved in dressing a bride now than I did when I first contacted you."
– Nelia Dwyer, Vermont
Frequently Ask Questions
Who makes my wedding dress or suit and where is it made?
Tara Lynn and her design team will make your wedding dress or suit right here in our Vermont fashion house. All of our unique wedding dress designs are exclusive to Tara Lynn Bridal. We are experienced professional designers, pattern makers and seamstresses. Tara Lynn is also a certified tailor and graduate of the Fashion Institute of Technology in New York City. She has a Bachelors degree in Fashion Design and has been making custom clothing since 1999. Each garment is made to order. We cut each order individually and accurately. We measure as we work and hand draft every custom sized pattern to assure for accuracy in fit. Tara Lynn will be present at your fitting and guide you during the process. Tara Lynn and her team create all the personalized art work by hand and work with you one on one to make sure you love every detail every step of the way.
When should I order my wedding dress?
Please be sure to place your order in advance as all garments are made to order. It is recommended to place your order 6 months to a year or more in advance of your event date. Once you place your order we will schedule the making of your wedding dress or suit and send you a timeline that includes items like fabric approval, fitting dates, embellishment approval and shipping dates.
Do you have a contract?
Yes, we have a 5 page contract that we will send to you to review and sign assuring the on time delivery of your wedding dress. With the exception of rush orders we finish and ship all orders a minimum of one month before your wedding date. We stay in contact throughout the entire process.
What forms of payment do you accept?
We accept cash, check, money orders and credit card payments. Once you are ready to place your order Tara Lynn will provide you a user name and pass word to access our secure payment page.
* We are also happy to provide references for you. We want you to feel nothing but excited about your order so please feel free to ask us lots of questions so that you are comfortable with placing your order. In some cases we accept deposits and other cases we require full payment up front. We work with clients all over the US and even Europe. 
What size wedding dress should I order?
Tara Lynn will help you decide what size dress to order. We will request your measurements and photos of you.  You are required to visit a local seamstress or tailor to get measured. Then we compare your measurements with our dress sizes and will recommend the size closest to you. Or we can custom make a wedding dress to fit you.  All dresses are cut and hemmed to your desired length. Custom sizes are an additional $1000 and include three in-house fittings.  It is also helpful to talk to Tara Lynn about style options, body type, modifications etc.
How many fittings should I expect?
It depends on the wedding dress you order. If you order a standard size dress from our collection we will ship you a finished dress and if needed you you can visit a local tailor for alterations. If you order a custom size wedding dress from our collection we include up to three fittings but most of the time one – two fittings is sufficient.  Custom designed wedding dresses or couture orders, especially a designer lace wedding dress, will include 3 – 5 fittings. Our contract will explain fittings in more detail.
Should I plan a trip to Vermont for my fitting? 
We love getting to meet our awesome clients and the creative time we spend together during the fitting process.
When you order a custom size or custom designed wedding dress and to get the best fit, we recommend coming to Tara Lynn's fashion house in Vermont.  However it is not mandatory as we are accustomed to shipping wedding dresses all over the world. Clients that come to Vermont for their fittings tell us "it is like a vacation."
If you are considering the trip we encourage you to read our post about visiting Vermont. Client's are energized by the experience and the creative process. You will be amazed at the boxes of vintage trims and buttons. Our fashion house is a naturally lit, elegant space nestled in the trees and surrounded by a huge outdoor playground. It's uniquely located in the Northeast Kingdom of Vermont, aptly named for it's incredible landscape. Unlike any other fashion house we know of we are strategically located in a rural landscape made for adventure. Clients will venture out into the mountains for a hike, snowshoe, ski, snow board, swim in the lakes or bike the Kingdom Trails between fittings.
When we are all done with your fitting and if you have time before you leave we'll catch a bite, a drink and gather round a fire.
Staying in touch, what is My Client Portal?
We built our website to include a personal client portal so we can keep in touch with you and feel closer to our clients that live far away. When you place a custom order we will send you a personal login to access your own private client portal on www.taralynnbridal.com.
In your private client portal you can:
View images of your wedding gown development in a gallery
Make secure payments
Share your client portal with friends and family
Does Tara Lynn Bridal offer alteration services?
Yes, at Tara Lynn Bridal we do offer select alterations services for more complex garments like gowns and suits. Be sure to contact us well in advance. Tara Lynn Bridal also makes custom accessories to go with your wedding dress or suit, i.e. veils, little hand bags, an embellished belt, ring pillows,  pocket squares for the groom and even garter belts.  For alterations,  please give Tara Lynn  a call at 802-467-9036 and make an appointment.  We are located on Route 5 in Sutton, Vermont about 1/2 hour north of St. Johnsbury.
Would you like to work with Tara Lynn?
"I will capture your spirit in a truly unique wedding dress
& delight you with genuine customer service."
– Tara Lynn