A Custom Hand Painted Dress
Sueno's Bohemian Hemp Wedding Dress Has Dragonfly's and Hand Painted Trout
"I absolutely love my hand painted dress. It fits wonderfully, and has me written all over it! The morning glories are pretty much me on a vine, I think! I can't believe how beautiful the fish are and each dragonfly is such a special gift!"   -Sueño,  NH
"I was determined to have a dress made out of natural materials – I avoid wearing plastic clothes on a day to day basis, so why would I settle for wearing a plastic wedding dress? One would think this was a reasonable and common request, but it turns out there are very few places and people who have them. As luck would have it, the most amazing natural fiber wedding dress maker lives a few hours away from me and I ended up in one of her amazing hemp dresses!"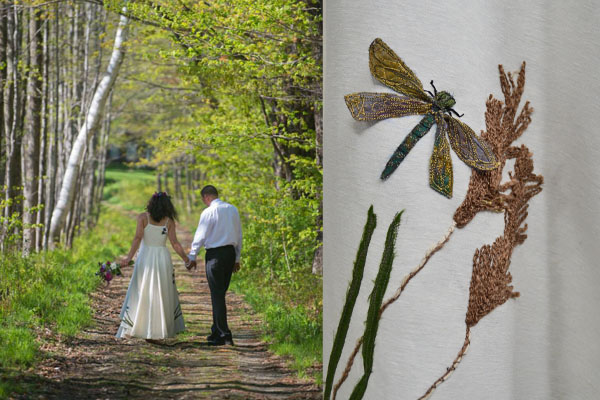 Q. Where was your wedding ceremony and reception?  Why did you choose this location?
A. "We got married at Orchard Hill Farm in Alstead, New Hampshire. It is a place close to our hearts and will be a part of our lives for years to come. Orchard Hill is a unique place that is home to a The Orchard School and Community Center, Orchard Hill Breadworks, Village Roots Permaculture Farm, and many amazing people, not to mention a positive and healing energy that no-one is immune to."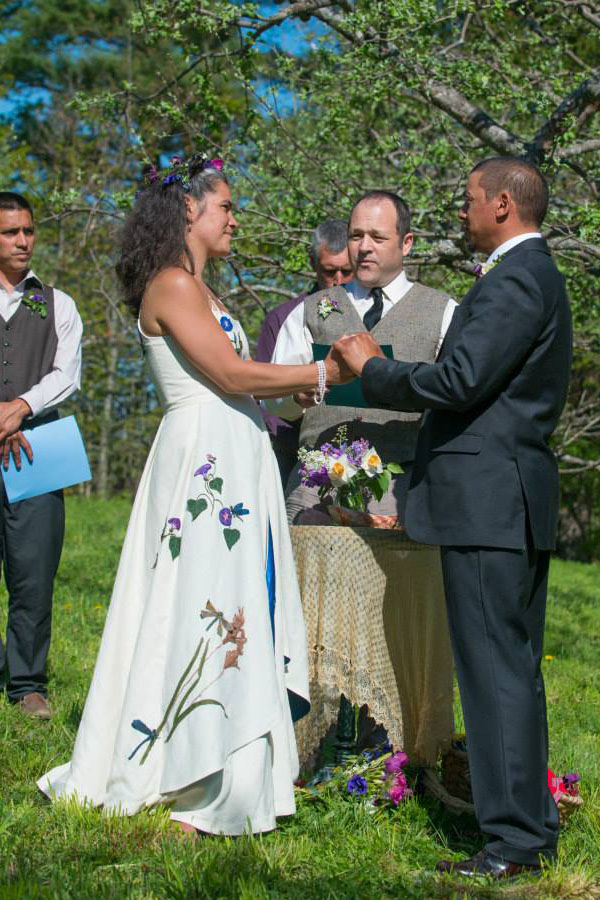 "Our ceremony was right in the heart of the orchard where there is half a row of trees missing creating a narrow section of open grass. Our reception tent was down the hill, below a vegetable garden and near the pond. The oxen were being pastured right near by and provided great conversation starters, especially for those with curious children."
"The trout made my dad cry. Even my mother was struck by their beauty and admitted that they were the perfect touch for her daughter's wedding dress!!"
Q. What am I forgetting to ask you about??
A. "My amazing dress!! I can't believe how beautiful my dress is. I never really saw myself as going out and putting a lot of energy into a wedding dress, but this was totally worth it. Your tag line is "Be Radiant". Well, that was the word that so many people used to describe me that day, and I tell you what, I sure felt it!!"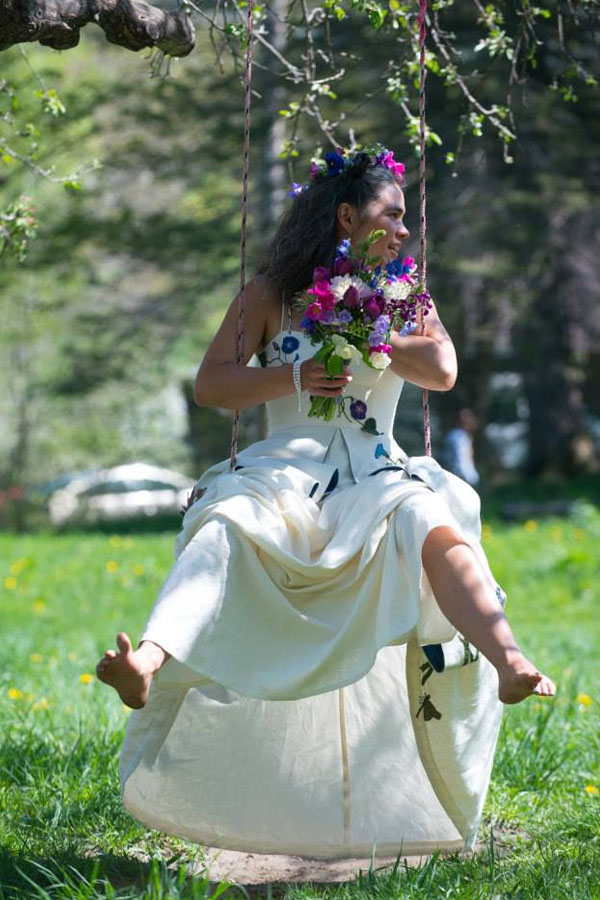 "Not only do I love the end product, but the process was wonderful as well. Being able to participate the way we do in creating the dress we wear is invaluable, and you, Tara Lynn are such a remarkable and fun woman. I genuinely feel grateful to have met and worked with you."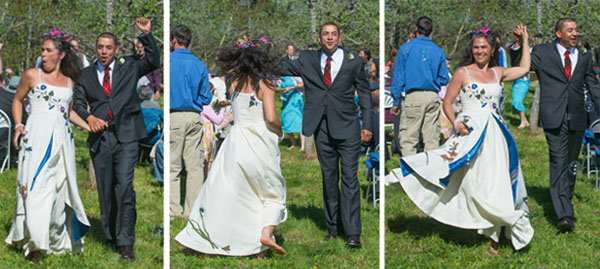 Q. What was the best part or most memorable moment of the day?
A. "Easily the best part of our day was walking arm-in-arm with our parents, through the orchard and to the ceremony site among the trees. Friends from Andrew's band played music we loved (You're All I Need to Get By by Marvin Gaye – for Andrew and Stuck On You by Meiko for Sueño) and we came to that ceremony singing and dancing (literally and figuratively)."
Q. Would you do it again?
A. "I am happy with my own experience and will cherish it forever, but it's such a shame that we threw such a big party and missed so much of it! Talking to everyone, taking pictures and just being the guests of honor made it impossible to enjoy the party as one usually does. So, if I were to go back in time to my wedding day, I would enjoy it as just another guest, watching the beautiful ceremony, blowing lots of bubbles and enjoying the food and music to its fullest!"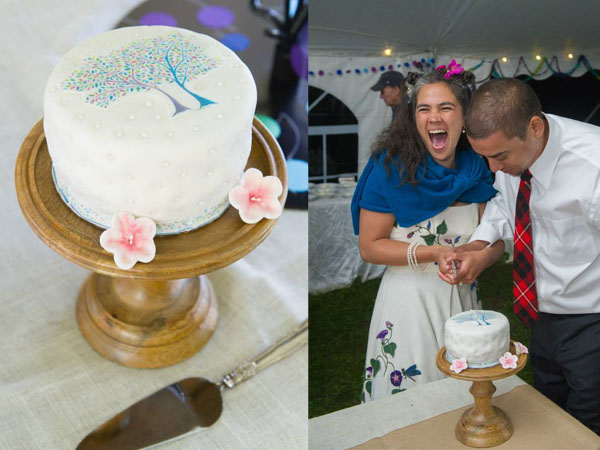 Q. What kind of cake did you have and who made it?
A.  "One of the women that Andrew fences with at the YMCA loves to bake – so much so that she often came to fencing class with cupcakes to share – and boy, were they yummy! Because we wanted to keep our money as close to home as possible among our friends and community, she was the perfect match for us. She made 200 cupcakes for our guests as well as a beautiful cake for the two of us decorated with the tree I painted for our invitations! More than we could have asked for!"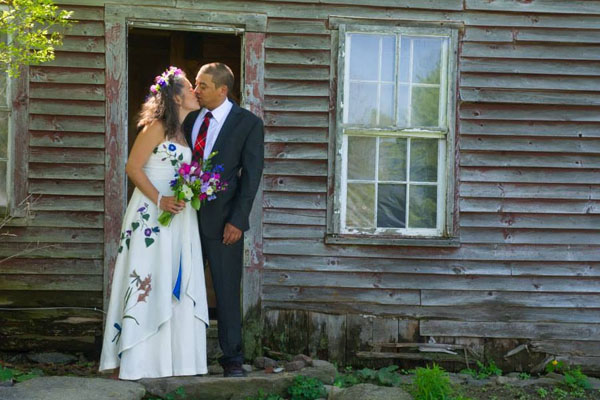 Q. What did you give out for party favors?
A. "We sewed one-of-a-kind double-sided napkins for each of our guests. While this required hours of our time before the wedding, the effect on the tables was outstanding and people were really impressed by the craftsmanship. Already, we have been to four different houses and gotten to dine with the napkins that adorned our wedding tables!"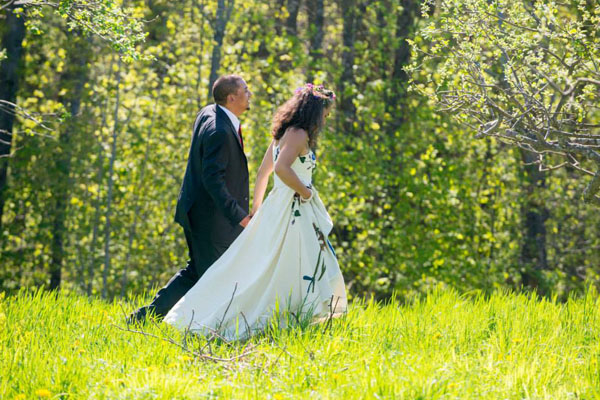 Q. Were there any unique aspects of your wedding that you want to share?
A. "Much to the horror of both our mothers who had no faith in it working, we had brick fired oven pizza for our dinner of 200 guests! Our friend, Noah Elbers, is the owner and baker of Orchard Hill Breadworks and Noah makes things work. Sure enough, people are still telling us how it was the best pizza they have ever had and that it was brilliant to have an ongoing dinner where people could graze on pizza over several hours. It was the best!!"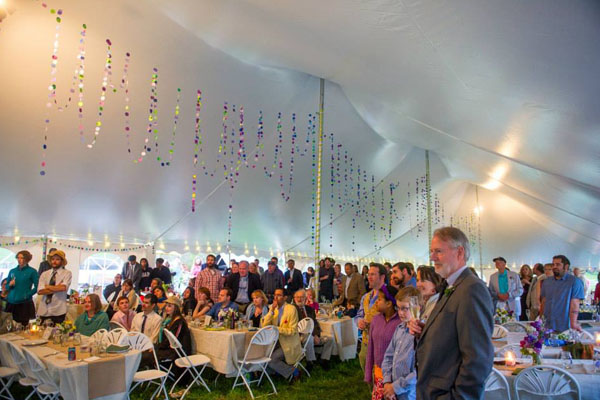 Would you like to work with Tara Lynn?
"I will capture your spirit in a truly unique wedding dress
& delight you with genuine customer service."
– Tara Lynn