A Northeast Kingdom Wedding
Nelia recaptures her wedding story:
It was a perfect Vermont fall day for a Northeast Kingdom Wedding on Lake Willoughby. Nelia's custom wedding dress was adorned with lace from her late mother's wedding gown. She chose to pair the lace with a soft, organic cotton hemp muslin for her wedding dress.
I love when a bride takes and finds the time to have a moment to themselves on their wedding day.
"After a short hike with the girls up to a lookout over the lake and a light lunch, I took a quiet shower and sat myself on one of the second story porches of The Notch House, where all I could see between the railing and the roof was glorious fall foliage; it was the perfect inspiration to focus, quiet myself, and appreciate the moment.  In writing this, I learned that Dave did something similar: he chose an outdoor shower on the backside of the cottage at the Notch House, where he could see the foliage above and hear the goings on outside around him, but feel alone and special for a few quiet moments."
All photos below by: Kingdom Wedding Photography
Nelia's mother's vintage lace wedding dress was incorporated into many aspects of her wedding celebration. The girls made ribbons from the skirt for the bouquet and lace was used in Nelia's sleeves, waist, and neckline trim.
"Our centerpieces were simple, recycled tin cans of various sizes, with patterns punched into them with hammer and nail, and a candle set inside."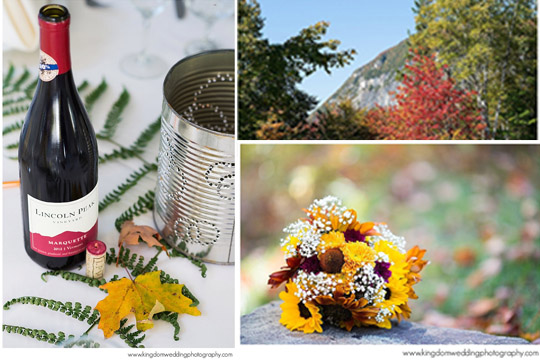 "We tried to grow our own sunflowers: we picked out a variety of seed packets from different local stores and shared them with friends who said they'd help grow some for us, as well.  Unfortunately, an early growing season and then an early frost meant that we had few survivors by September 27, but just enough to add a personal touch to the other store-bought stems of sunflowers, baby's breath, and long-stemmed mums.  We also had winter rye grown by a friend and dried amaranth from another friend's wedding two weeks prior. On Friday morning, while the boys hauled tables and chairs, the girls arranged bouquets and tied them with wire and ribbon.  The dried flower stalks sat in old milk cans and sap buckets were filled with water and any leftover stems we had."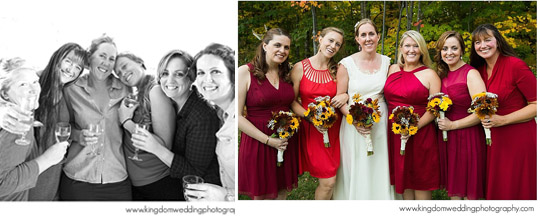 "Dave had decided to give the groomsmen felt, brimmed hats by Bailey's as a gift and to complete their outfits.  I loved it when I approached the aisle and saw them remove their hats and hold them to their chests, and Dave and I made eye contact, and his dog and best friend Nesta was there by his side as well, and I knew I was taking the best walk ever."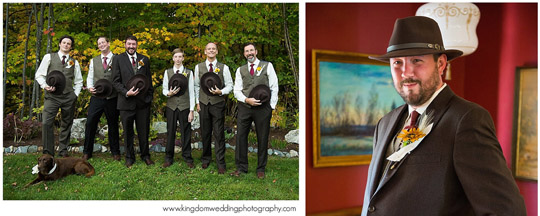 " We decided to get married at The Notch House, in Westmore, VT: the oldest estate on Lake Willoughby, beautifully restored. We didn't want to get in a car from Thursday to Sunday, so we chose a venue where we and our closest friends and family could gather for the long weekend, and make the rehearsal, ceremony, and reception happen on site."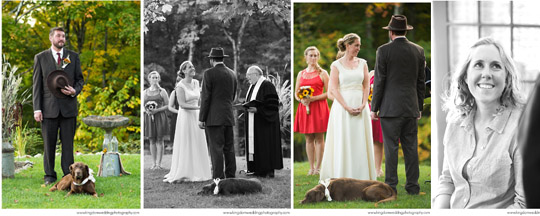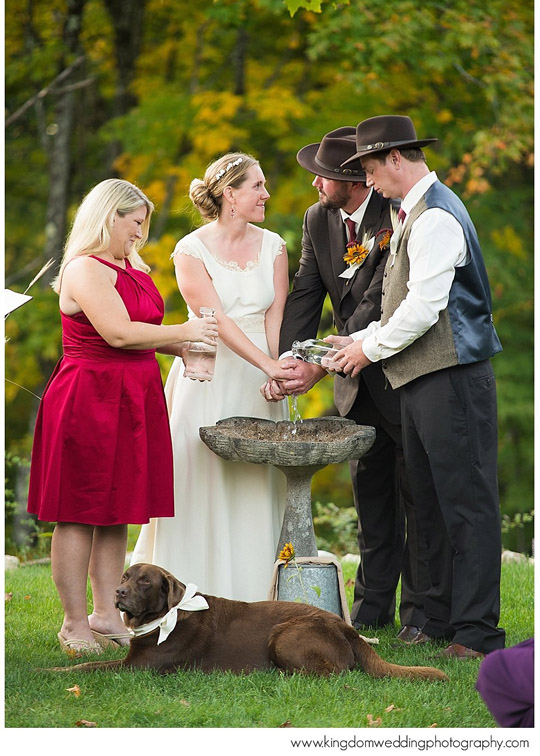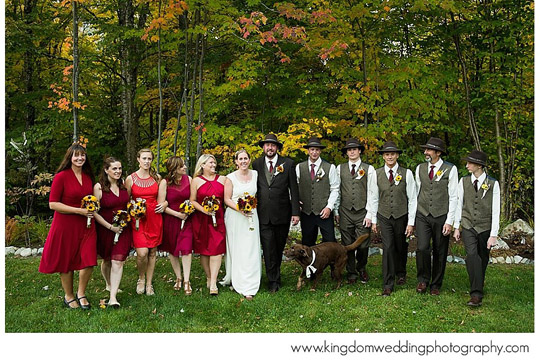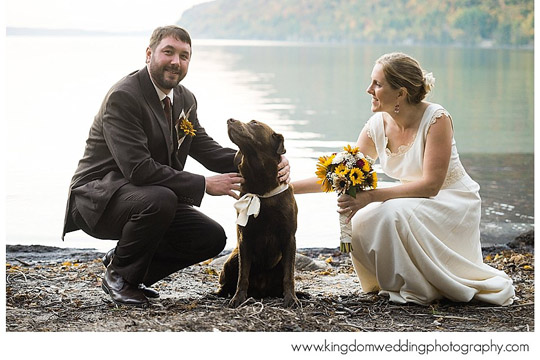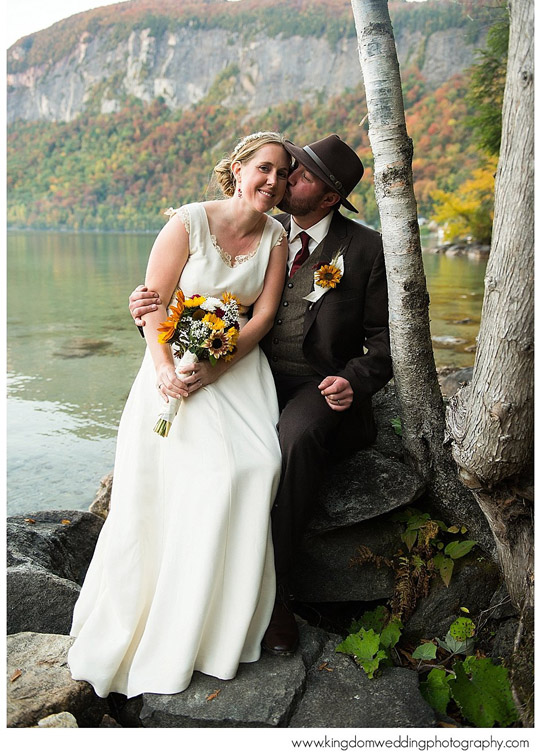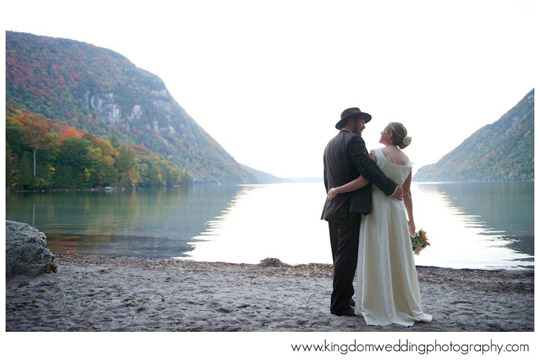 "We asked the guests to join us in song at the end of our ceremony. We feel like a group of people sharing their voices as one is the ultimate celebration.  We sang "Turn, Turn, Turn" in honor of the precious moment and the changing season, and we were fortunate to have it led by Pete Seeger's niece Kate and her husband Dean, close friends of mine.
We also asked our band to allow guests who are musicians to prepare a performance for us, and so from the dance floor we heard 5-6 different surprise songs sung by friends and family, and backed up by the band. "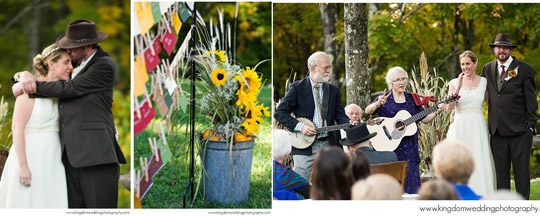 "Our escort cards were large paint samples from a local hardware store with fun names, hung on a clothesline; everyone with the same color sat at the same table. We had a smoked pig, with lots of fresh, local vegetables.
My husband and I don't like cake.  And we really don't like it when the party has to be paused, and everyone is told when to go eat cake, and watch cake be eaten.  We wanted the party to go on organically, and for anyone with a sweet tooth to be able to enjoy a dessert when he/she wanted, as much as he/she wanted.  So we had a buffet of fruit and cookies and warm chocolate sauce."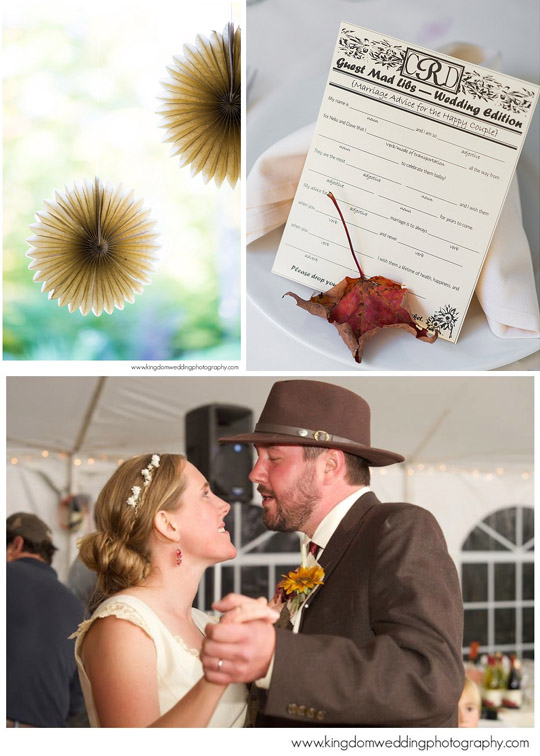 "We encouraged guests to take one of the tin can lanterns if they liked.  We gave out-of-town guests a jar of jam made by my mother -in-law from their berry farm, and a box of maple candy."
"Oh my gosh, we wish we could do it all again, and again, and again."
They hosted a truly authentic and unforgettable Northeast Kingdom Wedding.
Would you like to work with Tara Lynn?
"I will capture your spirit in a truly unique wedding dress
& delight you with genuine customer service."
– Tara Lynn