Gabriela's Mexican Embroidered Wedding Dress
And chocolate cinnamon moon pies, Nutella coconut bonbons and jello cookies!
Latin American folk art inspired the artwork on Gabby's hemp silk Mexican embroidered wedding dress.
Photos by: 40 Nights Photography
Flowers by: blooms by the box
Gabriela ordered a custom made Mariana wedding gown in hemp silk with Mexican embroidery.  She loves bright and bold colors and has always been drawn to the bright colors of Mexico and Latin America folk art and design.  Bright reds, blues, oranges, and yellows was what she envisioned.
Gabriela manages a non-profit fair trade store called Ten Thousand Villages and Braden is under contract to the U.S. Citizenship and Immigration Service.  They met 8 years ago but did not start dating until 4 years ago.  Braden proposed while on a road trip through Colorado down to New Mexico.   Gabriela said "He proposed on the Rio Grand Gorge Bridge.  It was awesome! There was a thunderstorm rolling in and the view of the Gorge and the mountains was unreal."
About her wedding, Gabby writes:
"Our wedding was supposed to be outside in the Sandhills of Nebraska (where I spent much of my childhood), near the Niobrara River.  We had planned to have our ceremony totally outside on this really pretty, grassy area of the farm between two really big trees.  It had been raining and storming off and on all day and we had to move our ceremony into the tent we rented at the last minute.  It was raining up until the ceremony, but when we walked out of the house to walk down the "aisle" the sun came out and it was absolutely magical.  Everything was bathed in this beautiful glow.
We ordered our flowers and my Mom sort of headed the arrangement assembly line.  A lot of us helped out and it's a lovely memory for me.  We were gathered around a picnic table in the sun (the day before the wedding) and everyone was taking all these vintage containers – bottles, cans, etc. –  and filling them with the wildflowers I'd ordered.  They turned out stunning!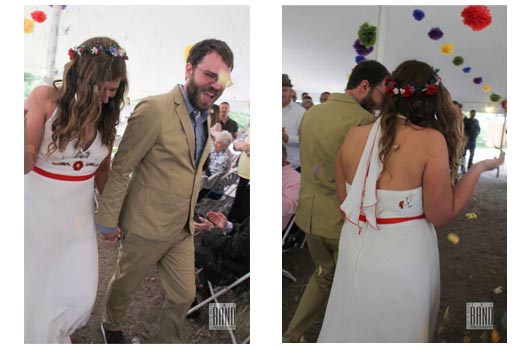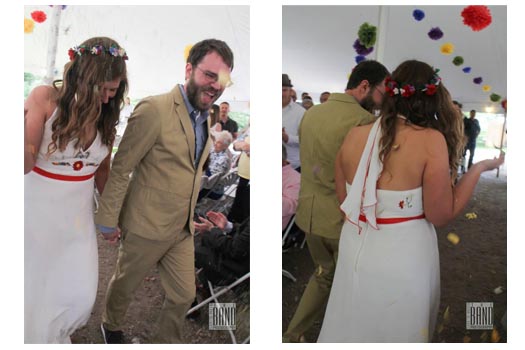 We created the ceremony ourselves after lots of research on rituals/readings etc.  We borrowed lots of elements from things we read and put our own spin on it all.  Our whole wedding party joined in at the end to help us wrap things up with a song!  We were all dancing and laughing.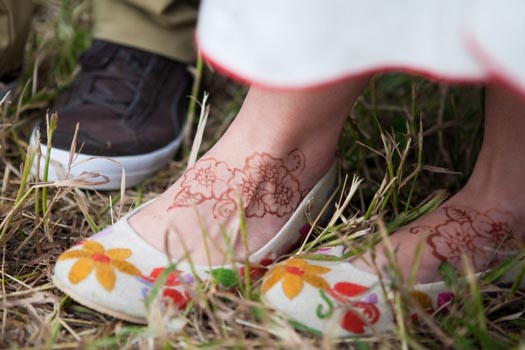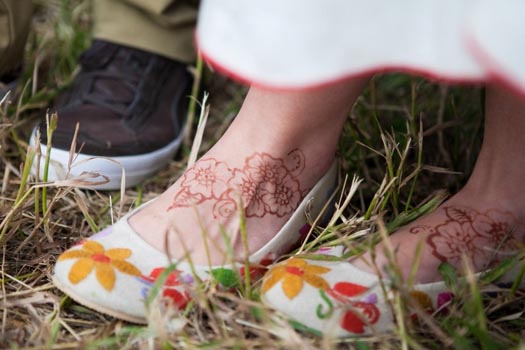 We also had a henna tattoo artist at the wedding and this was so much fun for our guests! Everyone lined up to get their tattoos and she decked them out with awesome glitter so it was awesome to see everyone sparkling and showing off their henna.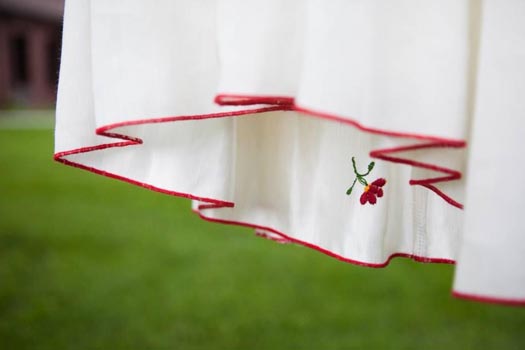 We had a dessert buffet!  We had a baker make us piranha plant cupcakes (from Mario Brothers) and also a champagne flavored cake with a custom made cake topper to look like the High Life girl in the moon!  Braden collects antique high life memorabilia and we both love beer so it was perfect.  We also ordered baklava from a small restaurant in Lincoln and it was so tasty!  My Mom and I planned out and made the rest of the desserts including chocolate cinnamon moon pies, Nutella coconut bonbons and jello cookies!  We went for a sort of BBQ picnic/Nebraska sort of fare.  We had pulled pork, vegetarian lasagna, Italian marinated chicken, grilled red potatoes, asparagus and corn casserole.  The food was all done by good friends of ours and it was so delicious!!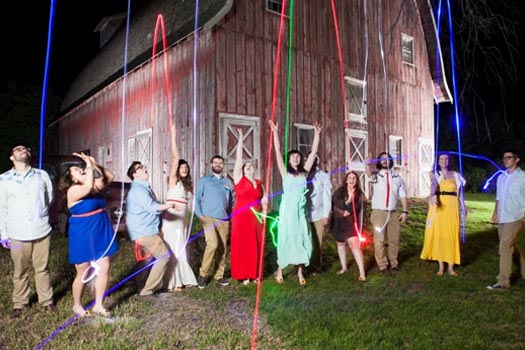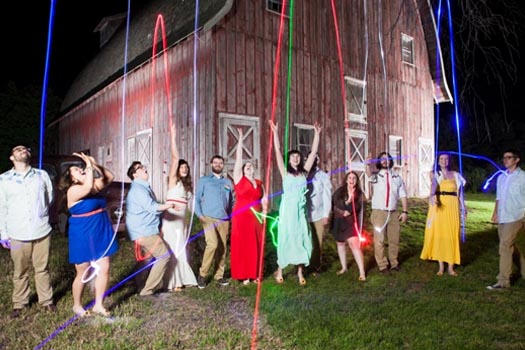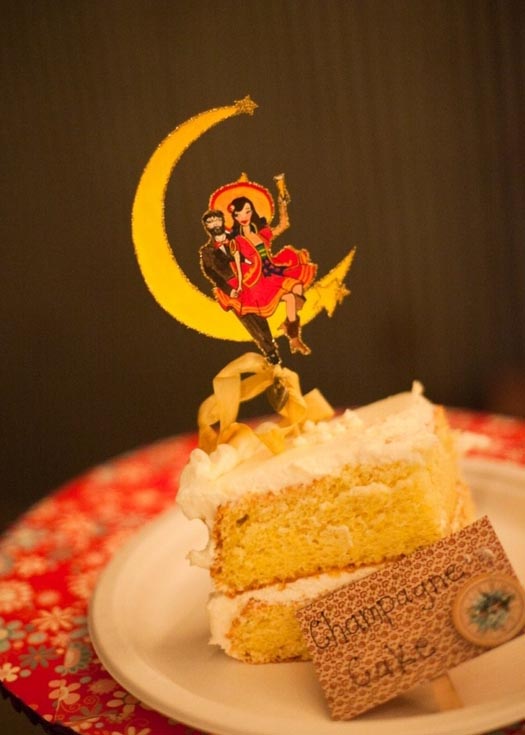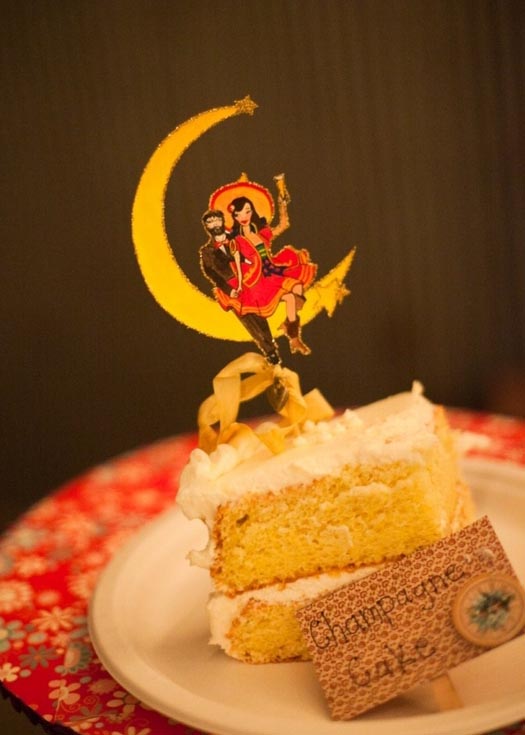 We had a bonfire later in the night and lots of guests whipped out their guitars for a jam session (including my Dad and brother).   Braden and I went across the border to Missouri to purchase fireworks and sparklers and we pulled these out later in the evening and had a BLAST frolicking around with everyone and lighting them off.
We also had karaoke going and as we tipped back more spirits, we sang so many songs and had a blast! 🙂  We wanted our wedding to have lots of different elements so that there was something that appealed to everyone.  All we wanted was for everyone to have a great time!"
 
"My dress was so awesome and I have been showered with compliments on it.  It fit right in to my personality and how we wanted the wedding to be-bright, cheery, lively and loud! 🙂 "  –  Gabby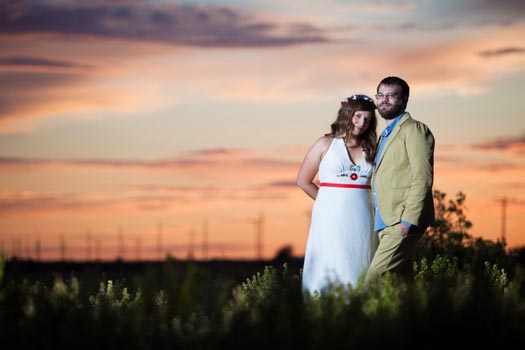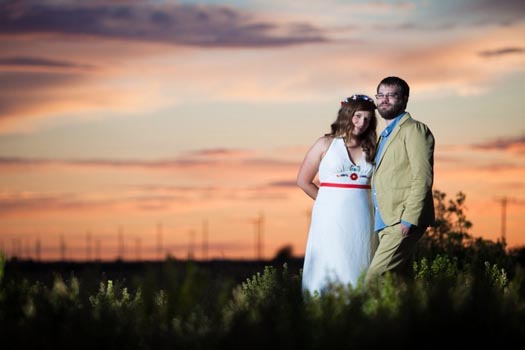 Would you like to work with Tara Lynn?
"I will capture your spirit in a truly unique wedding dress
& delight you with genuine customer service."
– Tara Lynn