It has been reported that Angelina Jolie wants to incorporate ethnic traditions from around the world into her wedding to Brad Pitt.  We did a little research, and it appears that a lot of brides are looking to personalize their weddings to reflect their heritage and cultural traditions.
We at Tara Lynn Bridal have the pleasure of meeting a lot of women who want to personalize their wedding gowns to reflect who they are, but the idea of creating an entire event based on cultural traditions is exciting.   One bride who recently had a fitting told us she was planning on having an authentic henna ceremony at the beginning of her wedding.
For Fire and Nick's wedding, Nick and his groomsmen wore traditional Scottish kilts.
Caitlin and Rowan's ceremony was a mix of their Irish and Jewish heritage.  It began with bagpipes that led them to a special canopy, called a Chuppah, which represents God's presence, shelter and protection.  It was so beautiful that we had to share!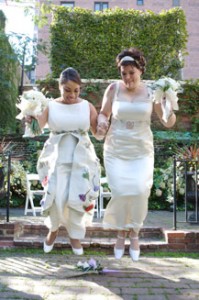 Leah and Laura jumped the broom which is an African tradition at weddings.  "Jumping the Broom" is a symbol of sweeping away the old and welcoming the new, or a symbol of new beginnings.
What is most important is to create an atmosphere that you are comfortable with.  A bride does not want to spend her day wondering or worrying whether or not the guests understand the ethnic nuances or enjoyed the traditional food, drink, or music.  However, including ethnic traditions in your wedding not only allows you and your partner to celebrate separate traditions, it helps you start your own!