Orion, a Casual, Comfortable Hemp Suit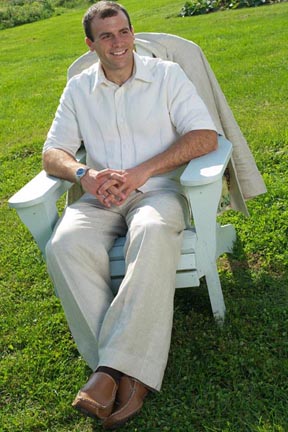 This hemp suit is a casual, and comfortable choice. The pleat-free wide leg pants are cut in a moderately lower rise that cleverly accentuates the derriere. The shirt is tailored to a relaxed fit across the chest and abdomen. The model is wearing Orion with a hemp/rayon blend shirt with shell buttons, however fabrics of varying weights and colors are available. Chose from organic cottons, white, black and blue or hemp/cotton muslin. This is an Italian style cut, no back vent, loose fit and made in a light weight 100% hemp herringbone fabric it feels and behaves like linen.
For the jacket, the groom can choose his lining from Tara Lynn's collection of vintage fabrics or request a retro lining, plaid, stripped, bold or simple solids.
Prices:
$145 – Short Sleeve Shirt
$220 – Long Sleeve Shirt
$550 – Wide Leg Pant
$750 – Casual Jacket
$1,520 – Full Suit (includes matching pant, jacket and long sleeve shirt)
$3,000 for custom sizes and custom designed suits.
Examples of fabric options:

Suits are made to order allowing options for modifications i.e. special fabric requests, custom artwork, design changes and more… To place an order contact Tara Lynn to make sure we can deliver on time for your wedding date. You can reach Tara Lynn by phone at 1-802-467-9036 or click here:

Tara Lynn ships all over the US and Internationally.