A Custom Wedding Dress in the Adirondack Mountains
Custom Heirloom Wedding Dress by Tara Lynn Bridal
Kellee had a special request for Tara Lynn: could she incorporate her mother's wedding dress and embroidered elements from a tablecloth her mother made in the seventies in her custom heirloom wedding dress?
Wedding Photos by Jared Willis

Yes! Tara Lynn loves using vintage materials and up-cycling them into something new.
The embroidered tablecloth became the bodice and her mother's wedding dress became the lining.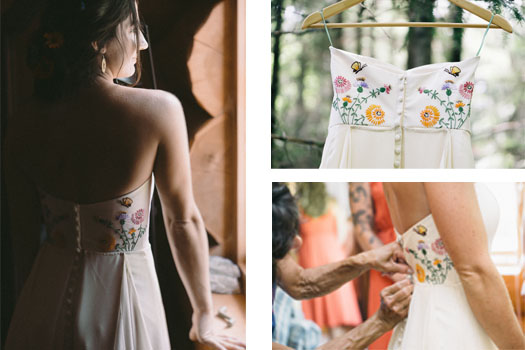 When Kellee, her mother and sister came to Vermont for a consultation Tara Lynn draped Kellee a dress beyond her imagination. She feel in love with the design. She came back to Vermont for three fittings. In between each fitting this woodland loving bride biked the Kingdom Trials with her fiance, swam in the Sutton River behind the Tara Lynn Bridal Studio, and just simply enjoyed vacationing in Vermont.
A Gorgeous Wedding in the Adirondak Mountians
View the photos below for lovely rustic wedding ideas from Kellee's Adirondak wedding!
 
A canoe keeps the beverages chilled while the oars show the couple will paddle the river of life together.

Fun thank you gifts for the guests!

Kellee and her bridesmaids carry bouquets made with the flowers of summer.

Casual seating arrangements allow family and friends to mix and relax.

Would you like to work with Tara Lynn?
"I will capture your spirit in a truly unique wedding dress
& delight you with genuine customer service."
– Tara Lynn