Y'all might remember the name Tara Lynn from the post about shopping for a vegan-friendly wedding dresses. Well, Tara Lynn Bridal is now officially an Offbeat Bride sponsor, and I'm excited to tell you more about these amazing dresses. But first, lemme tell you about Tara Lynn…
Tara Lynn designs wedding gowns by hand and on vintage sewing machines with natural, organic, and repurposed fibers (hemp, silk, organic cotton, and linen) in hersolar-powered studio! The combination of sunshine and Tara Lynn will get you a custom wedding gown, cut to your exact measurements, incorporating your wedding colors, personal touches, and favorite things.
NOW let's talk hot dresses!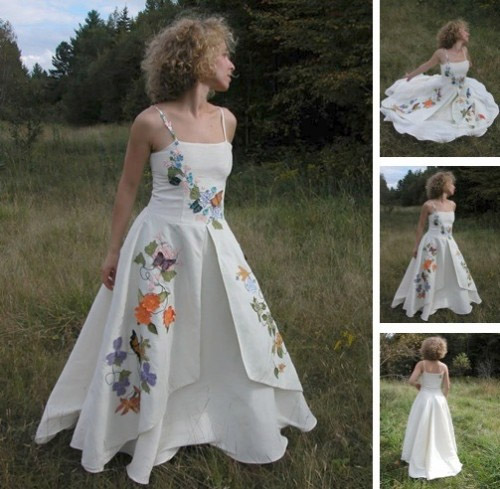 I think the Fiorella dress is my favorite favorite FAVORITE! The Fiorella is part of her signature Tara Lynn Collection, and incorporates all the intricate hand-made flower embellishments, colorful embroidery, and vintage lace appliqués Tara Lynn is known for. No two Fiorella's are alike as the embellishments are hand cut and embroidered to your desires.
The Chira is another fabulous dress from Tara Lynn's signature collection. For this particular dress you can choose from Tara Lynn's own collection of vintage lace, or send her your grandmother's vintage lace to embellish your custom bodice. Oh and one more thing: POCKETS! *slow nod*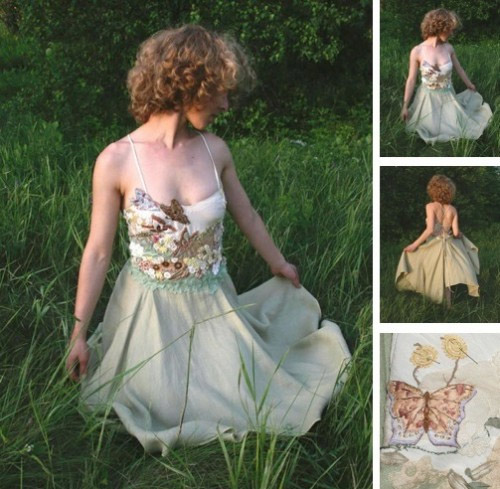 The Farfalla dress is party of the Tara Lynn Collection with dresses ranging from $1,200-$6,000. The Farfalla is perhaps Tara Lynn's favorite, since this was her actual wedding dress! I just can't get over the back of the dress — so hot right now.
The Billie Jean dress from the Vintage Bride collection IS my lover. I love the description of this dress from the website.
Tara Lynn Bridal dresses are shipped throughout the U.S. and around the world so ALL y'all can order your custom wedding gown today and have fun wearing it while you make out with your newly wedding partner!
Story from: