This printed wedding dress incorporated photographs taken by the brides late father.
Colorado wildlife; columbines, a fox, a rainbow and more were extracted from his photographs, to design and engineer a custom printed dress.
"I think you are a genius!  Gorgeous dress and beautiful bride inside it!" -Mom, CO
Photographs of the finished dress taken by Kat Mooney


Less than a year after her father passed away, the bride-to-be was looking for a symbolic way to feel his presence on her wedding day. Inspired by her late father's nature photography and a vision, she contacted Tara Lynn about making an eco-couture wedding dress.
We share with you behind the scenes of making a custom printed wedding dress from the concept sketch to the print design and the final stitch, affixing a butterfly perched on the skirt of her dress.
The magpie became the central focus of her wedding dress.
Using over 100 of her late father's photographs, of Colorado wildlife, Tara Lynn's team carefully extracted specific wildlife, like a chipmunk or a tree, branch by branch, from each photo. Through a personal and thoughtful collaboration, Tara Lynn incorporated the photos into a heart-warming landscape.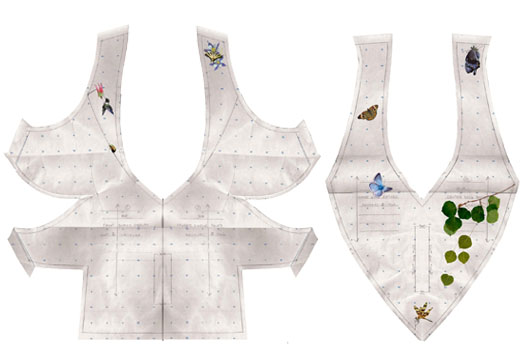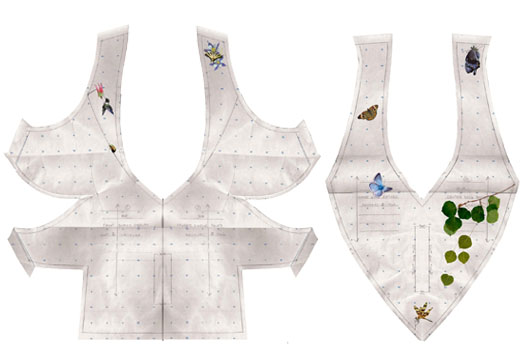 After the second fitting, Tara Lynn's team took all of the paper pattern pieces and scanned them into the computer. The print was engineered to fit the pattern pieces; a little beetle crawling on the edge of the neckline, a rainbow arched across the front skirt and a dragonfly perched at the small of the back. The background of the skirt faded from blue along the hem to white at the waistline. A shadow of the mountain range where the bride was getting married became the back drop for all the wildlife and flowers in the print.


Extra aspen leaves, butterflies and birds were printed and later used to make a fascinator and several lively appliques. Tara Lynn embroidered a ladybug over a printed sunflower and a swallowtail butterfly rested on the brides shoulder. Several butterfly appliques landed on the skirt. She added a few blue beads by the magpie's feet.
Her custom printed wedding dress was adorned with whimsical surprises.
On the day of the wedding her guests marveled at her dress throughout the night, noting every small wonder that made her dress special. She celebrated her big day wearing a personalized work of art that complimented her and captured her father's spirit.
Would you like to work with Tara Lynn?
"I will capture your spirit in a truly unique wedding dress & delight you with genuine customer service."
– Tara Lynn