A Cotton Wedding Dress
Mariana is a simply beautiful Cotton Wedding Dress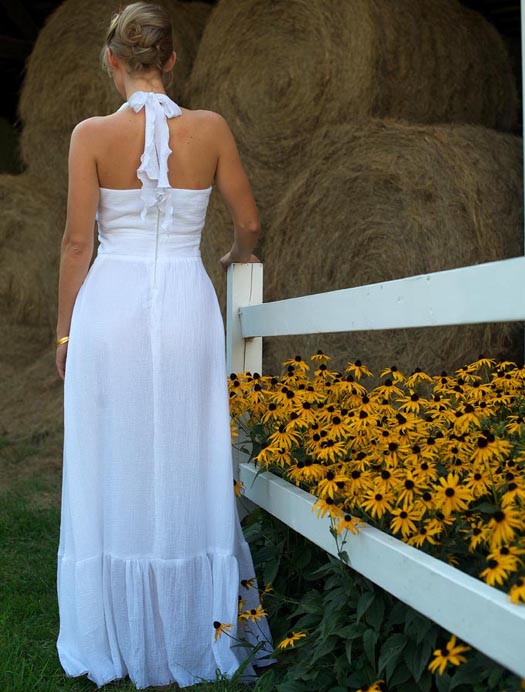 Named after the Brazilian Goddess of Love, Mariana is a simple cotton wedding dress that skims airily over the female form and softly along the curve of the hip. The lining, sewing thread, and gauze are all made in 100% cotton so the Mariana wedding dress can be dyed before or after your wedding.
Price: $800
Available in Sizes 2–14; Custom Size for an additional fee
Handmade in Vermont
Made-to-order

*Mariana is 100% cotton and can be dyed for an additional $200 before or after your wedding.
*Contact Tara Lynn for a fabric swatch.


Tara Lynn ships all over the US and Internationally
Personalized Versions of Mariana
"It's stunning!" Cheryl, MI
"My dress was so awesome
and I have been showered with compliments on it.
It fit right in to my personality
and how we wanted the wedding to be–
bright, cheery, lively and loud! 🙂"
Believe it!
You just found the place for a Simple Cotton Wedding Dress!
Were you feeling out of place in the sea of white, fluffy, taffeta wedding dresses?
Are you looking for a natural, alternative wedding dress that captures your spirit?
You're going to feel right at home when you speak directly with eco-couture fashion designer Tara Lynn. She will help you find or design an eco-friendly, unique wedding dress that feels like you! Call 802-467-9036 for a magical and personal experience.


Tara Lynn is a certified tailor and graduate of the Fashion Institute of Technology. She has been making custom hemp and natural fiber clothing since 1999.
Other wedding dresses you might like to see: