The Making of A Couture Wedding Dress
Manu and Sayed were planning a wedding on the beach in Puerto Vallarta, Mexico. For this Manu was looking for a casual but chic couture wedding dress. A wedding dress she could wear barefoot or in stiletto's. A wedding dress with flowers, seashells and pearls. A unique wedding dress inspired by nature, with a hint of Brazil. Most of all she said, "I just wanna feel like me."
"I just wanna feel like me."
She began the trip to Vermont to work side by side with Tara Lynn to design the perfect wedding dress. First they shared ideas. Manu had a wedding inspiration journal. They talked about silhouettes and Manu tried on several wedding dress styles. Tara Lynn started draping fabric over Manu and sketching her dream.
It was very important to Manu to have a wedding dress made of eco-friendly materials and have her gown not only reflect her style but her values and way of life. She described a dress that would be bold and simple, very unique and honest, no fuss yet intricate " I wanna feel like myself… not feel like a "princess" or as tho I am playing dress up to be a bride."
Manu was in love with the idea of a seashell train and favored the Persephone style bodice and lace up back.
Tara Lynn brought out her collection of trims looking for a combination of raw and polished.
She suggested a mix of pearls, hemp twine, chiffon, silk gauze, seashells, beads and gauze flowers.
"OMG This was an incredible find. My dress is impeccable,
I have never experienced a better service!" – Manu, D.C.
Tara Lynn got to work. Manu came back for several fittings.
A beautiful, flowing dress began to unfurl.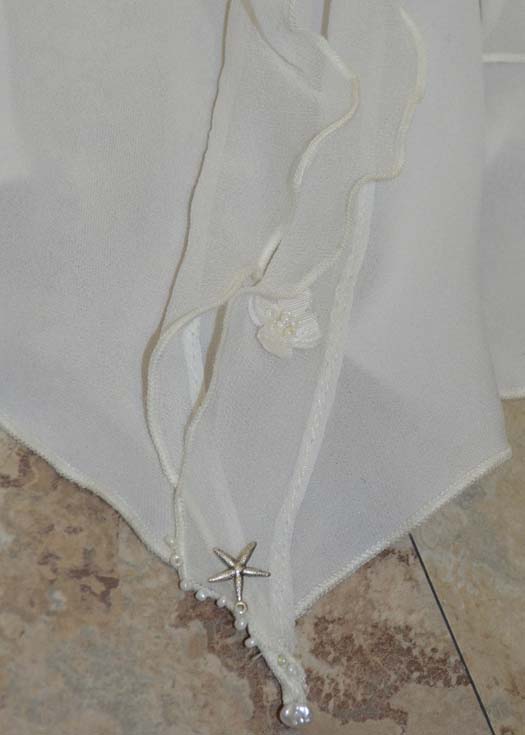 Pearls and starfish charms added a whimsical and personal touch. It has a hint of her Brazilian spirit too.
What would you like to personalize on your couture wedding dress?
Click here to…